VA Chesapeake Bay Charter Boat Trip Types
Catchin' Up II is available to take charters 7 days a week, and is located only minutes from Colonial Williamsburg. We offer: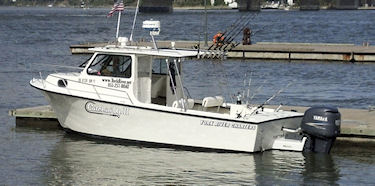 *** We accept cash, check or major credit card for payment. A credit card number is required to reserve your trip. Your card will not be processed prior to your charter. If you need to reschedule or cancel your trip, 72 hours notice is required. Less than 72 hours notice requires that we process your card for full payment. Captain Alan also may cancel or reschedule trip due to inclement weather and/or unsafe sea conditions.***
*** On charters departing from Smith's Point and Virginia Beach, there will be a fuel surcharge in addition to standard charter fees for trips originating in Yorktown and Gloucester. This surcharge will be agreed upon when trip is booked. ***
We offer various discount packages that bundle your charter with lodging, dining, and other outdoor recreation!
Please visit our Contact page for directions and to let us know how we can best serve you by email or voice.
The following link provides advice on What to Bring.