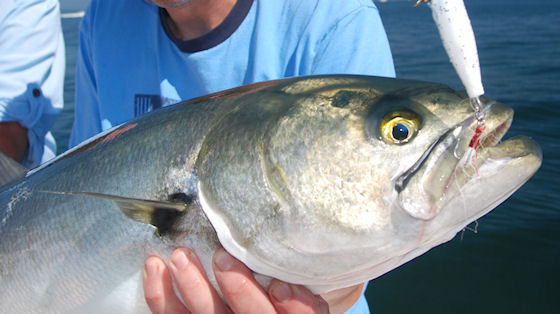 Chesapeake Bay Trolling Charters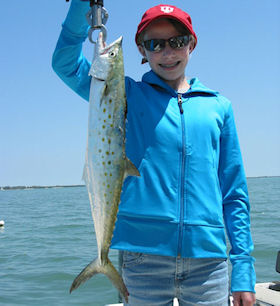 Trolling lures and dead baits is one of the methods guests aboard Catchin' Up II can choose to fish. Some of the species we target by trolling include trophy striped bass (stripers, rockfish), bluefish, red drum and Spanish mackerel. Luckily for our guests, all of these fish are great table fare. For those who have had less than satisfactory results with bluefish dishes, ask Capt. Alan for some preparation tips. ;-)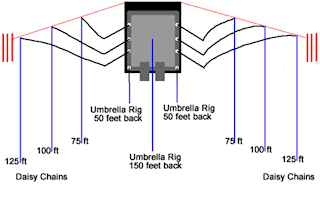 Depending on our targeted species, lures used in our trolling spread may include different styles of metal spoons, hard lures (plugs), and soft plastics on lead head jigs in various configurations such as daisy chains, umbrella rigs, and parachutes.
Big Spreads!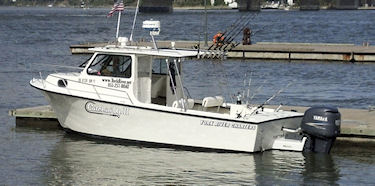 Often we utilize large planer boards in deploying our trolling spread. For those familiar with use of outriggers, our planers serve much the same purpose. The planers allow us to cover more water and put out more rigs by spreading them out from the sides of the boat. The big difference between planers and outriggers is that use of planer allows us to run rigs up to 125 feet out from the boat, giving us a 250 foot spread!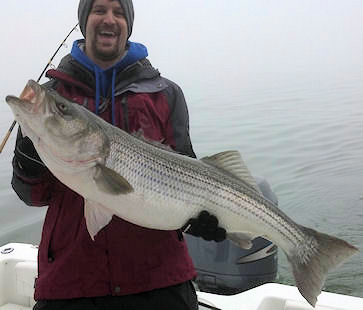 We also use diving planers that allow us to run lures down to depths of 50 to 80 feet.
York River Charters' goal is to provide our guests the most personalized charter experience available on the Chesapeake Bay. We invite you to come on down and enjoy some of the finest Trolling on the East Coast!
VA Trolling Fun!
Trolling for aggressive Chesapeake Bay predators provides action packed fun for our guests of all experience levels! We are certain your Captain's unique perspective and knowledge of the region are sure to give you reason to join us many times in the future and become yet another lifelong Trolling fishing friend.
For trolling fishing excursion Rates and Times, go to our Fishing Charters page.